SOLAR PROMINENCE: This morning in the Philippines, John Nassr looked for the first time through his new Personal Solar Telescope and, he says, "I was welcomed by a large prominence!" Here it is: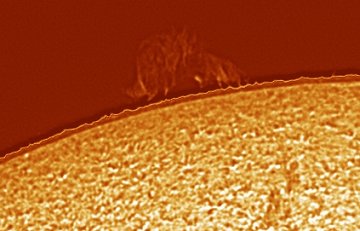 The fiery archway is big enough to hold the entire planet Earth with room to space. "It's a big one," agrees Greg Piepol of Rockville, Maryland, who snapped this follow-up photo hours later.
The face of the sun may be blank and dull--see below--but the edge is definitely worth watching. If you have a solar telescope, take a look.
BLANK SUNS: The sun has been blank--no sunspots--for 14 consecutive days. It's a sign of solar minimum. If forecasters are correct, the absolute rock bottom of the solar cycle will come in March 2008. Is this exciting? In a sense it is. The blank days we see now herald a sea change to come in March when the sun transitions from a quieting star to an increasingly active one.
Meanwhile in Texas, Sam Cole was eager to photograph some kind of sunspot, so last week he angled the sun behind a construction project near the shore of Austin's Lady Bird Lake: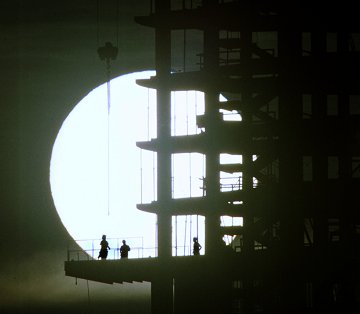 -from spaceweather.com